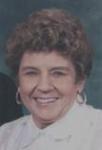 Edwena
Kondrat (Eddy)
Rubright
September 4, 1929
-
May 19, 2011
Born in East Chicago, IN
Resided in

Maryville

,

TN
Obituary
Edwena Kondrat Rubright (Eddy), age 81 of Maryville, TN, died Thursday, May 19, 2011, at home. Born September 4, 1929 at East Chicago, IN. Graduated from Catholic Central (Bishop Noll) High School in 1947 and attended St. Mary's College, Notre Dame, IN. She married Robert Rubright on August 26, 1950 and spent the first five years of their lives together raising their first born, Diana, and supporting her husband thru The Indiana University School of Medicine, all the while living in a 24x8 foot trailer with no bath or hot water (such was life on the G.I. Bill).
There followed an exciting year as a Navy wife while Bob completed his internship at the Great Lakes Naval Hospital where their son David was born. It was there that she learned that in the Navy even nursing mothers had beans for breakfast on Saturday mornings. From 1956 til September 1970, she assumed the role of wife and understanding companion of a busy General Practice Physician. She recalled the 3 a.m. phone calls asking to talk to the Dr. - only to pat the other side of the bed and respond "Check OB @ St. Margaret's Hospital". In 1958, she bore her youngest son, Don - and continued her role as a busy mother, active in the community and president of the Lake County Medical Auxiliary.
The family relocated to Knoxville in 1970 when Bob accepted a position at U. T. Student Health. There followed many years of strong ties to the University and more particularly the Athletic Program. Eddy was a familiar presence at U. T. Football and Basketball contests - usually sitting with the coaches wives while Bob was on the sidelines as Team Physician. She was known, loved and respected by so many players, coaches, staff and friends known only as "Miss Eddy" or "Mrs. Doc". So many former players (some great and other not so famous) cordially greeted her when they recognized her at athletic events. At the time of her death, she had attended 28 Bowl games as well as games in Honolulu, Anchorage, Alaska, many sites in Europe plus many trips with the teams all over the United States. Though born a "Hoosier", she was a true Tennessee Volunteer. Two of her favorite parties were the 4th of July on the Lake with the "Rollo Gang" - mostly blue collar people like herself and Bob, i.e. Athletic Trainers and managers plus a few old football players. The other was the annual preseason gathering of football coaches at the home on the Lake - all done by Eddy - no catering permitted.
After Bob retired, they were privileged to travel extensively. Among the most memorable trips were river boat excursions in Europe, Thailand, Bali, a cruise to many of the World War II Pacific Islands that had been sites of famous battles. The most memorable trip of all, however, was three weeks in Australia and then 35 days at sea while aboard a freighter sailing from Brisbane, Australia by way of New Zealand and the Panama Canal to the U. S. with 4 other passengers.
Eddy was preceded in death by her parents, Edward and Petronelia Kondrat, her brothers, Edward, Peter, Matthew and Thomas and grieved at the death of her son, David Lee Rubright in 2004.
She is survived by her husband of 60 years, Robert, a daughter, Diana Rubright and a son, Donald and his wife Mitzi. Also surviving are grandchildren, Donovan Swick and his wife Tara, Derek Rubright and his wife Jennifer, Jonas Rubright and his fiancé Keri and Taylor Rubright Warren and her husband Josh. There are six great grandchildren, Caitlin, Alaina, Chloe, Simeon, Lavender and Symphony and "A host of friends, loved ones and Volunteers". She was an active parishioner at Blessed John XXIII Catholic Center on The University of Tennessee Campus for many years.
The family will receive friends from 5-7:00 p.m. Sunday at McCammon-Ammons-Click Funeral Home, Maryville.
A Funeral Mass will be at 11:00 a.m. Monday at Blessed John XXIII Catholic Church, Knoxville, with Father Charles Donahue and Father James Brucz officiating. The interment will be at 1:30 p.m. Monday at the East Tennessee Veterans Cemetery.
Memorials may be made to St. Judes Childrens Hospital, P. O. Box 50, Memphis, TN 38101; Second Harvest Food Bank of E. T., 922 Delaware Avenue, Knoxville, TN 37921; Blessed John XXIII Catholic Center, 1710 Melrose Place, Knoxville, TN or a Charity of your choice.
McCammon-Ammons-Click Funeral Home, Maryville, TN in charge (865) 982-6812
www.mccammonammonsclick.com
To send flowers or a remembrance gift to the family of Edwena Rubright, please visit our Tribute Store.
Services
Visitation
McCammon-Ammons-Click Funeral Home
220 W. Broadway Ave.
Maryville
,
TN
US
37801
Service
Blessed John XXIII Catholic Church
1710 Melrose Place
Knoxville
,
TN
US
Cemetery