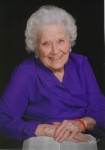 Mary Blanche
Clark
Badgett
July 7, 1918
-
August 11, 2017
Born in Blount County, TN
Resided in

Maryville

,

TN
Obituary
Mary Blanche Clark Badgett (O'Ma), 99, died August 11, 2017. She was born July 7, 1918 in Maryville, TN to Emma Proffitt Clark and Hugh Monroe Clark who predeceased her. Her two siblings were Hugh Harold Clark and Frank Proffitt Clark (Mary) also deceased.
Blanche now joins her beloved husband of 68 years, J. N. Badgett, Jr. (O'Pa) whom she married July 3, 1941 at New Providence Church in Maryville, TN. Together they traveled the globe, lived many places and had many adventures. They leave behind their three children to cherish their memory, John N. Badgett III (Rebecca), Memphis, TN; Susan Rebecca Metzler (William) Grove City, OH and Timothy Clark Badgett (Patricia) Maryville, TN. Grandchildren include Linda B. Hays (Norm) of Kiel, WI; Dietke B. Stogner (Joey) of Surfside Beach, SC; John Charles Metzler III (Sarah) of Lewis Center, OH; Benjamin Clark Metzler (Angel Raver)of Grove City, OH; John Clark Badgett of Maryville, TN and James Thomas Badgett (Kesha) of Sweetwater, TN. Great-grandchildren are Kaylee H. Picklesimer (Ralph) of Richmond Hills, GA, Andrew C. Hess of Madisonville, TN and Alexis J. Stogner of Surfside Beach, SC; David W. Metzler and Lauren E. Metzler of Lewis Center, OH; Reagan E. Badgett and James Thomas Badgett Jr. of Sweetwater, TN. Great-great grandchildren are Caden Privette and Gracie Picklesimer.
Blanche's worked as a clerk at Proffitts Department Store (1936-1938) and also for her father at Clark's Flowers (1936-1944). She graduated from Maryville High School in 1936 where she played the clarinet in the band and then studied Home Economics at the University of Tennessee for a year. Her love for all things food related began early. An article in The Maryville Times dated March 6, 1922 when she was 3 ½ was about a birthday cake she made for her great uncle Joe Lamon. Another article, not dated, said she won first place in the cake contest at Leonard Smith's Grocery Store. There were 74 cakes in this competition.
With J.N. in the US Air Force, Blanche followed him to many duty stations including Arkansas, Oklahoma, Maryland, Ohio, Virginia and the Philippines where she was active in the Officer Wives Club. They also were big supporters of the Military Club at McGhee Tyson AFB. Always being very active in the Methodist church and her children's school no matter where they were living.
Blanche froze and canned food from O'Pa's garden each year. Their children loved to raid the basement pantry each Thanksgiving. For 40 years she hosted the Badgett Thanksgiving, with 50-75 or more in attendance. On Friday night after Thanksgiving, most of the family and some close friends returned to eat the "leftovers". Most years more attended Friday than Thursday for the second get together of fellowship, laughter, delicious food and wonderful memories. She instilled the importance of eating together as a family. Among Blanche's specialties that everyone wanted were her Angel Biscuits. Thousands were eaten by the family and given away to friends.
A lifelong love of flowers inspired her to belong to and be President in 1979 of the Smokey Mountain Garden Club. She also helped out at Hartman's Florist whenever she was available. The Chilhowee Club was another outlet for her flower creativity.
After retiring from the Air Force, J.N. and Blanche moved back to their beloved Maryville and she was again very active in the First Methodist Church, Maryville City Schools, the Smokey Mountain Garden Club and served on the Board of Blount County Children's Home. The Maryville Rotary Club honored her by naming her a Paul Harris Fellow in 1981.
Blanche loved her God, her family, her country and flowers. She was a wonderful, kind, gracious southern lady with a gentle heart and a humble spirit. She always gave encouragement and unconditional love to all her family. She will be greatly missed by all who were fortunate enough to know her. Our precious Oma left us a legacy of a life well lived. We will cherish her memory always.
Funeral services will be 11:30 A.M. Tuesday in McCammon-Ammons-Click Funeral Home Chapel with Rev. Catherine Nance officiating. The interment will follow in Magnolia Cemetery.
The Family will receive friends Tuesday from 10:30 to 11:30 at the funeral home.
Memorials should be sent to The Pat Summitt Foundation, 520 W. Summit Hill Drive, Suite 1101, Knoxville, TN 37802; First United Methodist Church Welcome Table, 804 Montvale Station Road, Maryville, TN 37803 or Magnolia Cemetery, PO Box 4835, Maryville, TN 37802.
To send flowers or a remembrance gift to the family of Mary Blanche Badgett, please visit our Tribute Store.
Services
Service
McCammon-Ammons-Click Chapel
220 W. Broadway Ave.
Maryville
,
TN
US
37801
Visitation
McCammon-Ammons-Click Funeral Home
220 W. Broadway Ave.
Maryville
,
TN
US
37801
Burial